When I first saw the popcorn box I put it on my wishlist, but after seeing this Stampin' Up! video, I was sold and ordered it immediately!
[youtube https://www.youtube.com/watch?v=tc0IY2IEXpM&w=560&h=315]
The popcorn box is really cute and the perfect size at 3-1/2″ tall to add cello bags filled with treats or surprises.
But with just a few tweaks, it can be so much more!  How about a basket?
Or a mini take out box? Oh the wonderful treats or gifts you can add to this for the holidays.
And what if you don't have the Gift box punch board? Here's a simple mini box you can make using the Popcorn box thinlet. Use it for table, bridal or baby shower favors, or birthday thank you take-away boxes.
I'm sure you will be able to come up with other ideas on how to modify this box to create more boxes! To make these projects you'll need paper, stamp sets, washi tape and linen thread, but use what you have on hand to customize your own creations. If you need or want the specifics for each box, email me and I'll tell you what you need. Here's how to get the Popcorn Box thinlets: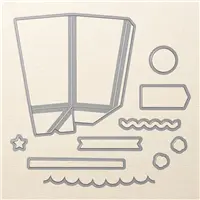 QUOTE OF THE DAY:
When you think you've exhausted all the possibilities…think again because there are always more!