Yes, it's been several days since my last post. I promised myself no crafting until I finished getting all our 2015 tax files in order and sent off to our tax group. And yes, every year at this time I swear I'm going to do it different and record everything as it happens throughout the year. And yes, I did start out doing that last year, for a week – LOL. So here I am once again, mumbling and saying not so nice things as I spent all day Friday, most of Saturday and Sunday trying to get it done. Even made my sweet hubby sit down and go through all his travel and consulting files – ARGH!! Nope, not done yet. Not even close! And sitting here in my craft room (since it's also my office with computer) trying to sort through and record the information all the while seeing all my wonderful crafting supplies around me is killing me. My resolution this year is to record our expenses on a weekly basis since we retire in 2017 and I want to be ready to do more crafting and traveling, not taxes!
But I decided I needed a quick break to clear my head. No crafting but did look at a few of Stampin' Up!'s new product videos (and started creating my "must have" list for February). I'm not sure how I missed this new "Enjoy the Little Things" project kit in the spring Occasions catalog! I saw the video and had to go search for the kit. Now I remember seeing it in the catalog, but skipped over it thinking, hmm…maybe later. Well it's now later! Watch the video and tell me it's not a darling kit that you just have to have for your office or home!
[youtube https://www.youtube.com/watch?v=NLN-tu5ETzo&w=560&h=315]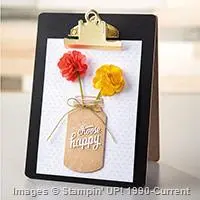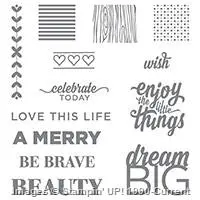 Okay, back to tax files tonight, maybe it will all miraculously come together and I'll be done! And then I can start making those projects in my head to share with you! Oh, BTW – have you finished all your Valentine's Day cards and candy treat holders? Don't forget to get them in the mail in time for Sunday! I got mine in the mail this morning.