Yes, that's what I've been doing with the April Paper Pumpkin kit…trying to figure out what to do with it. Finally this weekend I decided to just make it as originally planned, but I did use one of the stamps from the retired Word Play set. It took me less than 30 minutes to put it all together (that's why I love these kits, so easy). I decided to hang it on my craft room door to take my picture of it. OH…I love it there. It makes me so happy to see it every time I walk into my craft room. It inspires me to "image the possibilities!"
I'm saving the cute tags to use with one of my creative box projects, watch for that post later! Meanwhile, take a look at what all was included in this kit (although right now there are no refills in stock). I just love my Paper Pumpkin subscription…it's a fun surprise every month (even for me!). It makes me continue to imagine the possibilities I can create each month.
[youtube https://www.youtube.com/watch?v=Hvdle-BErxE&w=560&h=315]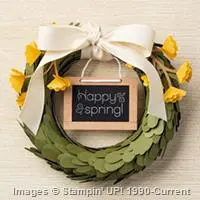 QUOTE FOR THE DAY:
As many people have said many ways…Imagine the possibilities in your life. They are there even if you're not looking. Enjoy my posts.